Mediterraneo Marine Park
Type: Fun & Theme Parks
€15.90
The most popular attraction for all ages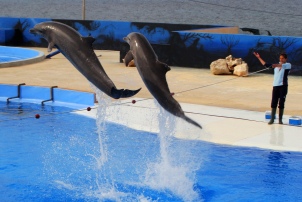 Attraction Details
Situated alongside the sea, at "White Rocks" in Bahar ic-Caghaq, the Malta Marine Park succeeds in combining entertainment with education, offering guests an insight into the underwater world of dolphins & sea lions, the dexterity of tropical birds, and the laid back but alert turtles, frogs, snakes, iguanas and spiders.

Whilst the Bottlenose Dolphins are undoubtedly the stars at the Malta Marine Park, and are a definate delight to visitors with their acrobatic skills, their obvious intelligence and their sense of fun, the group of South American Sea Lions are also a big hit with park guests, who are proud to demonstrate their strength, agility, humour and awareness, all blended in with an informative commentary by the animal carers.

The standard entrance ticket includes three exciting shows including the sea lion, parrot, the excellent dolphin show and you can also visit the repltile house.
Opening/Operating Times
Open from April 1st to September 30th from 1000hrs to 1700hrs

There are 2 Parrot Shows at 1015hrs and 1430hrs
There are 2 Sea Lion Shows at 1130hrs and 1530hrs
There are 2 Dolphin Shows at 1300hrs and 1630hrs
How to Get There
Transport to/from the park from hotels and central locations in towns and villages is available (€5.00 per person and you select this option when booking) or you can make your own way to the park.
Details on 'How to Get There' will be provided with your attraction ticket voucher. This includes address and telephone number, bus routes and detailed map including longitude and latitude coordinates.
Ticket Type
Valid for one visit. This is an Open Ticket which means you can visit anytime during the validation period.
Presentation Type
Open air stands with seating
Attraction Facilities
Bar and Restaurant, Restrooms an Gift Shop
Access Suitability
Wheelchair users can access all areas of the Marine Park.