Harbour Cruise
Type: Boat Trips
€16.00
Discover Malta's magnificent harbour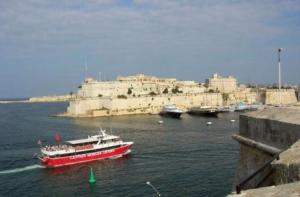 Attraction Details
The Harbour Cruise allows you to witness Malta's living past. Cruise around the two natural harbours on either side of Valletta - Marsamxett Harbour and the Grand Harbour. A detailed commentary will unfold the history of Valletta and the Three Cities connected with two Great sieges of 1565 and 1942, as well as all the other places of interest including the historical forts, battlements and creeks which can only be admired from the sea. We cruise into every creek showing you the closest possible views.
Opening/Operating Times
Daily departures at 1030hrs, 1230hrs, 1445hrs during November to April (additional cruises at 1130hrs, 1315hrs may be added)

Daily departures at 1030hrs, 1130hrs, 1230hrs, 1315hrs, 1445hrs, 1530hrs during May to October


How to Get There
Transport is not provided to get to this boat trip.
Details on 'How to Get There' will be provided with your attraction ticket voucher. This includes address and telephone number, bus routes and detailed map including longitude and latitude coordinates.
Ticket Type
Valid for one cruise. This is an Open Ticket which means you can join this cruise anytime during the validation period.
Presentation Type
On board live or recorded commentary
Attraction Facilities
Restrooms and bar facilites on board
Access Suitability
Boarding is by gangplank.

Crew will assist clients with limited mobility and with wheelchairs.